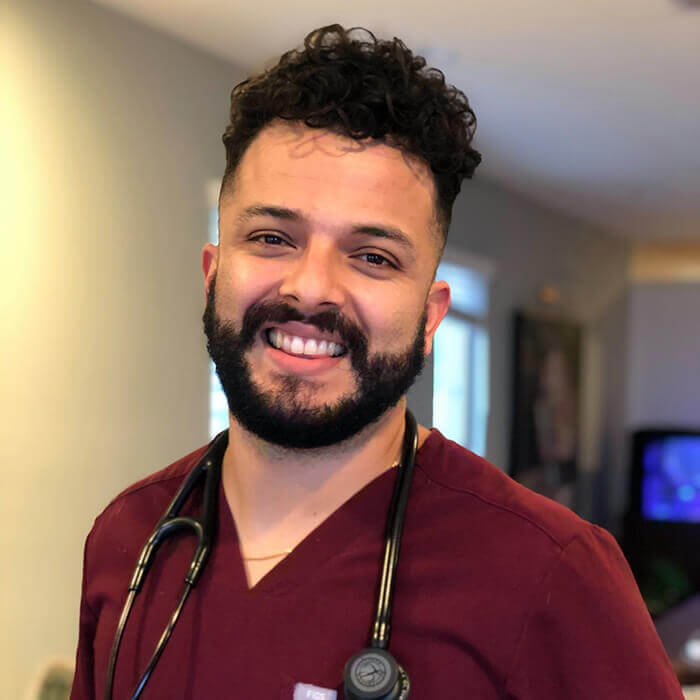 Dr. John Gil is one of those rare Los Angeles' natives, having been born and raised in the port town of San Pedro. While his initial career goals were law school and Supreme Court judge, life had a much different plan in mind.
Dr. Gil has always been the "animal lover" in his family and was notorious for bringing in strays or hurt animals and nursing them back to health. However, it wasn't until a college summer job as a receptionist in a veterinary hospital that he discovered his passion for animal health and well being.
Dr. Gil graduated from UC Santa Barbara in 2009 with a degree in zoology. He then moved back home to Los Angeles, where he worked as a veterinary nurse in a busy ICU for two years. He graduated from Virginia-Maryland College of Veterinary Medicine in 2015 (Go Hokies!). Afterward, he completed a prestigious, intensive one-year internship at The Animal Medical Center in New York City, the world's most renowned specialty hospital. There he received advanced training in internal medicine, surgery, ophthalmology, dermatology, neurology, critical care, oncology, cardiology, and radiology. After this rigorous training, he moved to San Diego, where he trained for two years under a team of board-certified internal medicine specialists, ultimately expanding his diagnostics capabilities to include ultrasound and endoscopy. Since then, he's honed his skills while working at a variety of hospitals for the last 15 years.
Dr. Gil's s special interests include internal medicine, ophthalmology, and neurology. He truly enjoys managing diabetes, gastrointestinal disease, epilepsy, ocular disorders, and kidney disease, among others. He stays current on the latest research and aims to provide the best and most up-to-date care for all his patients.
Outside of the office, Dr. Gil loves to travel, cook and garden. He and his partner have four pets, two dogs, Joey and Leah, and two cats, Nina and Camilo. Dr. Gil is also an aquarium enthusiast and maintains a small reef tank. Dr. Gil is excited about this opportunity to work in his hometown, and he cannot wait to meet all of you and your furry family members!