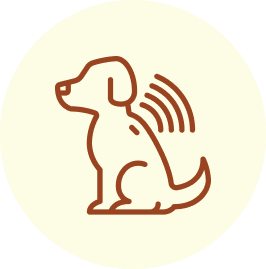 No one wants the sinking feeling of looking for your pet and realizing they're not there. It's one of the worst things a pet parent can experience, and, considering only 17% of lost dogs and 2% of lost cats make it back to their owners, the fear you may never see your friend again is a very real possibility.
No queremos que su preciosa mascota se convierta en una triste estadística. Es por eso que recomendamos encarecidamente ponerle un microchip a su mascota.

Microchipping your pet will make it much more likely your cat or dog will be returned to you! Unlike collars and tags, microchips cannot fall off and get lost. They serve as permanent identification for a pet's entire life.

The process is extremely affordable and simple: a veterinary technician injects the tiny chip between your pet's shoulder blades. Inserting the chip is virtually painless, and many microchip manufacturers include reunification services as part of their service.

Give yourself peace of mind and your pet a ticket home—schedule an appointment for microchipping today by calling at (626) 289-9227.